School is almost done
    Well school is coming to an end in 5 days.  It seems like yesterday I just started my blog for my class #ccc410mkt and showing my teacher @ejyoung67 how I can Crush it! I really did not know much about blogging when I first started this project. Quite frankly I was freaking out.  Once I got into it, it was not so bad. My first few posts were not up to par of what blogging should be according to my teacher. I was told my content was not original. I was not sure how that was so until I talked with her. I learned what I was posting was fine but I had to make it my own.I had to make it my own by telling my readers why these articles/websites/exercises were good and why they should read it or tell them why the article or website was bad. I had to give it my point of view. I had to make it my own.
   The challenge that I faced when I was blogging was connecting my content to my twitter account. I had a hard time trying to engage what I was talking about on my blog. Another challenge that I faced was reaching out to my audience and wanting people to come and visit my blog and keep them coming back.  I only had 100 visits and 47 people viewed my blog from when it started until now. The majority of the people were from the United States that visited but I also had a few people from other countries.  There are a couple of reasons as to why I think I did not have many visits. One I did not follow any other blogs that were similar to mine which was sports and fitness and the other reason is I did not link out enough to other sites. If I did these two things I think I would have had more visits. Although my visits were not  that high my average time on sight was a little over two minutes which I thought was great. 
   Personally I liked this project. I learned that it takes a lot of time and effort in order to reach your audience and make content that is worth reading and want to continue to follow.  Another thing I learned is that you need to connect your blog with other social media tools such as twitter in order to engage more with your audience. I hope to continue this blog further and if I end up continuing this blog I will work on linking out more, following relevant blogs and people that connect to my content and connect my blog content more to my twitter.
I came a crossed this article and thought it would be helpful staying fit for sports and staying healthy. It has some great insights on exercises. The question is have you H.I.T it yet? I hope to be.
I came a crossed this article and thought it was great. It combines different types of music to add to your playlist or to start one. It has inspirational songs, fight songs, and swagger songs. These songs will surely be some songs you want to add.
There is nothing better than having a kick a** pre-game playlist before you head out for your big game. Nothing like loud pumping music in the locker room before you hit the court, field, or ice. I can remember like it was yesterday listening to our pre-game playlist. It got our heads in the game, got us focused and ready to play with all we had. Our pre-game playlist usually consisted of Rap, Hip Hop and Rock and Roll.  Some of the songs we had, just to name a few were Remember The Name by Fort-Minor, Bring 'Em Out by T.I., You Shook Me All Night Long by AC/DC, Blueberry Yum Yum by Ludacris, and Headstrong by Trapt. The pre-game music I believe is key to getting focused and pumped for the game.  I know it helped me. Does your team have awesome pre-game music? You can find these songs I listed and many other great music at itunes. Stay tuned for articles and websites to help build your pre-game playlist or add to the one you already have.
We didn't lose the game; we just ran out of time.

-Vince Lombardi
I personally like this quote. I never really liked the lable loser when it came to sports. I believe if the team work their hardest and worked as a team they were winners. This quote explains just that. It says the team worked hard and are still winners but needs to work a little more.
The picture above is what I thought the previous article I posted would have had. This poster is great! It shows you how the exercises are suppose to look and a description of what is going on. You get a visual and a description so you are more likely to do the exercises correctly. I personally think it helps. Check out Productive Fitness for more posters like this one and other products.
I came a crossed this article and thought that it would be great spilt routine workout that I could try. So I clicked on the link. This article is not what I thought it was. I thought it would have pictures and descriptions of what the exercises were, but no it was just a confusing list of exercises. Some of these exercises seem like they would be great, but how can you tell if you have no clue what you are suppose to do. I personally think this article is crap. If the author added pictures and a description of each exercises then they would have had a great article. Some people prefer a video when working out like the one I posted earlier or some people prefer an article describing each exercise with a picture. It is up to you to decide what works best for you.
As I mentioned earlier I like to switch between working my upper body and my lower body for my workout routine. This video combines both and I personally think it is good video. I sometimes use this if I decide I want to work my lower and upper body instead of focusing on just one. It shakes up my routine a bit so it doesn't get boring. These moves are simple and they do not take that long if you do not have an hour of so to workout. When picking out your workout routine make sure you pick something you like and will not get bored with. Switch it up if you need to. I do as I mentioned earlier. Hope this video is as useful for you as it has been for me.
Exercise and Sports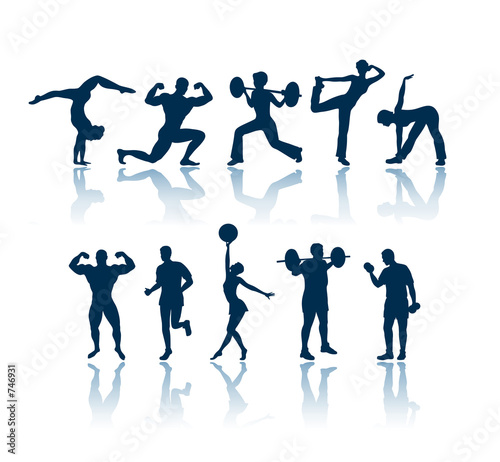 "Hard work is a two-way street. You get back exactly what you put in." This quote as I mentioned earlier is something I live by especially when it comes to sports and everyday life. The effort you put in is going to determine your outcome. This quote, I personally think connects to exercising when it comes to sports. In order to become a better athlete one must be in shape and take care of their bodies in order to perform well. If you put very little effort into exercising and practicing for your sport you are not going to get the results that you want. It takes hard work and dedication. You just have to determine how much you are willing to put in, in order to become a better athlete. Personally I try to exercise five days a week. My typical routine for the week is, every other day I do my upper body and then my lower body and at least thirty minutes of cardio. Do you have an exercise routine you stick to? If not are you ready to put in the effort to make an exercise plan to become a better athlete? Stay tuned for some exercises I think work well for both your upper body and lower.
Hard work is a two-way street. You get back exactly what you put in

—Unknown
This quote is great! Especially when it comes to sports and getting yourself in shape and keeping yourself in shape. It takes a lot of hard work and dedication but the more effort you put in the better athlete you will be. This is a quote that I live by, especially when it comes to sports and life in general.